Londolozi is one of South Africa's original private game reserves. A pillar of global ecotourism, it is also a proudly family-run business of which the Varty family have been custodians since 1926.
The word Londolozi comes from the Zulu word and means 'Protector Of All Living Things'. The name reflects the ambitious conservation ethic in its relationship with the natural world. The reserve has been lauded internationally for its foresight and progressive land and wildlife management practices, as well as its productive community involvement through its conservation development model.
The primary emphasis on conservation and a village ethos stands alongside a commitment to luxurious accommodation, fine cuisine and exceptional service. In 1993, Londolozi became the first game reserve in the world to be accorded Relais & Châteaux status.
Londolozi is situated on the Sand River it the heart of the Sabi Sand Game Reserve within the Greater Kruger National Park.
Founded in 1976 as the original safari lodge in South Africa, Londolozi Game Reserve by 1990 had demonstrated through the Londolozi Conservation Development Model that people and wildlife could live and work together in harmony to the mutual benefit of all. Londolozi had become a destination of exceptional beauty and a Safe Haven for wildlife, operated by an extended family who strived for right relations to be practiced across all races and cultures at all times. The central tenant of Londolozi has always been the belief that the warm and engaging care of our visiting Guests is the wellspring from which we find our 'Spirit of Place' and the foundation upon which The Model stands.
The advantages of the original Conservation Development Model founded at Londolozi and endorsed by Nelson Mandela, lay in its ability to produce long-term returns for investors whilst simultaneously ensuring sustainable conservation and community upliftment.
As such, it was these guiding principles that went on to inspire hundreds of other enduring nature-based tourism operations, which have since been established and flourished across Africa. Today a thriving industry exists which supports, in growing employment opportunities, social upliftment and commercial owner-operated supply chain enterprises. Based on sound conservation and protection of wildlife, this industry serves to support and promote family life for thousands of rural families.
Visit Londolozi
Londolozi's powerful combination of geography and wildlife creates the famous atmosphere that returning guests call the 'Londolozi feeling'.
The lodge is situated on the Sand River in the very heart of the Sabi Sand Game Reserve. This reserve forms part of the Greater Limpopo Transfrontier Park, a growing area that currently covers six million acres and incorporates the famous Kruger National Park. Wild animals move freely across this vast space, offering spectacular game viewing and a true wilderness experience.
Breeding herds of elephant and buffalo roam throughout Londolozi, while white rhino and lion concentrations are among the highest recorded on the African continent. Yet it's the leopards of Londolozi that make us world famous for wildlife, and lie at the heart of the Londolozi feeling. Over the course of more than four decades, a unique relationship has developed between our rangers and trackers and generations of wild leopards. Intimate leopard sightings are frequent here, an experience that our guests agree is a pinnacle life experience.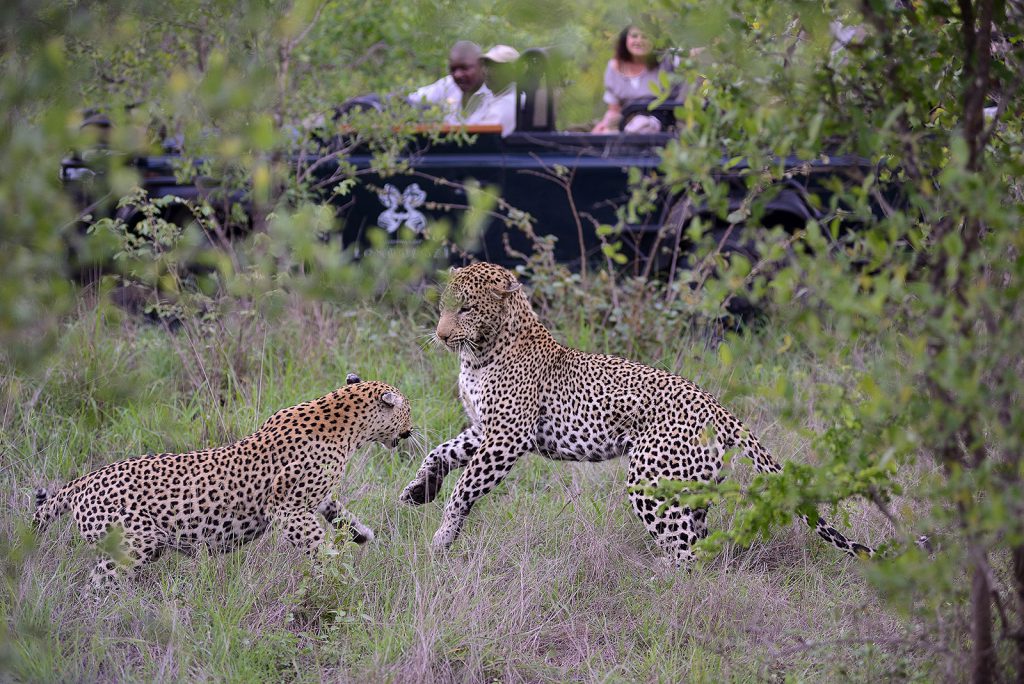 We believe in safari as a journey that immerses the senses and awakens the spirit. To have an encounter with wild animals in the African bush is to discover an essential truth about ourselves and our world. For all of us who live the Londolozi feeling, our deepest wish is to give you the chance to experience this for yourself.
To visit Londolozi please fill in the form below and one of our team members will make contact with you shortly.