What is Londolozi?
Londolozi is one of South Africa's original private game reserves. A pillar of global ecotourism, it is also a proudly family-run business of which the Varty family have been custodians since 1926.
The word Londolozi comes from the Zulu word and means 'Protector Of All Living Things'. The name reflects the ambitious conservation ethic in its relationship with the natural world. The reserve has been lauded internationally for its foresight and progressive land and wildlife management practices, as well as its productive community involvement through its conservation development model.
The primary emphasis on conservation and a village ethos stands alongside a commitment to luxurious accommodation, fine cuisine and exceptional service. In 1993, Londolozi became the first game reserve in the world to be accorded Relais & Châteaux status.
Londolozi is located on the banks of the Sand River it the heart of the Sabi Sand Game Reserve adjacent to the Greater Kruger National Park in South Africa.
Londolozi Game Reserve History
The origination of Londolozi's history began in 1926 when Charles Boyd Varty and Frank Unger visited what is now the site of Varty Camp for the first-time in June 1926.  A rustic camp was established on the banks of the Sand river and the first campfire was lit amidst the roar of lions and calls of leopard.  So began the origins of a dream that would grow into one of the most sought-after safari destinations in Africa.
In 1969, John, Dave and Shan Varty evolved the relationship with the land and the wildlife to create a blueprint for a new vision of conservation and restoration in Southern Africa.  The game reserve was renamed Londolozi in recognition of the Varty's ethic of sanctuary and their desire to work in partnership with nature; the name is derived from Zulu and means 'Protector Of All Living Things'. 
This was the beginning of the Londolozi Safari experience.
Conservation Development Model
Through the 1970s and '80s, Londolozi's guiding principle was to demonstrate that wildlife tourism was economically viable in a land torn apart by racism, division and fences.  This was done principally through the Londolozi Conservation Development model which, at its core, has a sense of universal responsibility, not just to the animals and the land that sustains them but also to all people who call this planet home.
As the original safari lodge in South Africa, Londolozi Game Reserve by 1990 had demonstrated through its Conservation Development Model that people and wildlife could live and work together in harmony to the mutual benefit of all. Londolozi had become a destination of exceptional beauty and a Safe Haven for wildlife, operated by an extended family who strived for right relations to be practiced across all races and cultures at all times.
The central tenant of Londolozi has always been the belief that the warm and engaging care of our visiting Guests is the wellspring from which we find our 'Spirit of Place' and the foundation upon which The Model stands.
The advantages of the original Conservation Development Model founded at Londolozi and endorsed by Nelson Mandela, lay in its ability to produce long-term returns for investors whilst simultaneously ensuring sustainable conservation and community upliftment.
As such, it was these guiding principles that went on to inspire hundreds of other enduring nature-based tourism operations, which have since been established and flourished across Africa. Today a thriving industry exists which supports, in growing employment opportunities, social upliftment and commercial owner-operated supply chain enterprises. Based on sound conservation and protection of wildlife, this industry serves to support and promote family life for thousands of rural families.
A Londolozi Safari
Londolozi's powerful combination of geography and wildlife creates the famous atmosphere that returning guests call the 'Londolozi feeling'.
The lodge is situated on the Sand River in the very heart of the Sabi Sand Game Reserve. This reserve forms part of the Greater Limpopo Transfrontier Park, a growing area that currently covers six million acres and incorporates the famous Kruger National Park.
Wild animals move freely across this vast space, offering spectacular game viewing and a true wilderness experience.  A Londolozi safari is an immersion into the heart of the wilderness.
Breeding herds of elephant and buffalo roam throughout Londolozi, while white rhino and lion concentrations are among the highest recorded on the African continent. Yet it's the leopards of Londolozi that make it world famous for wildlife, and lie at the heart of the Londolozi safari. Over the course of more than four decades, a unique relationship has developed between the Londolozi guides, trackers and generations of wild leopards. Intimate leopard sightings are frequent here, an experience that Londolozi safari guests agree is a pinnacle life experience.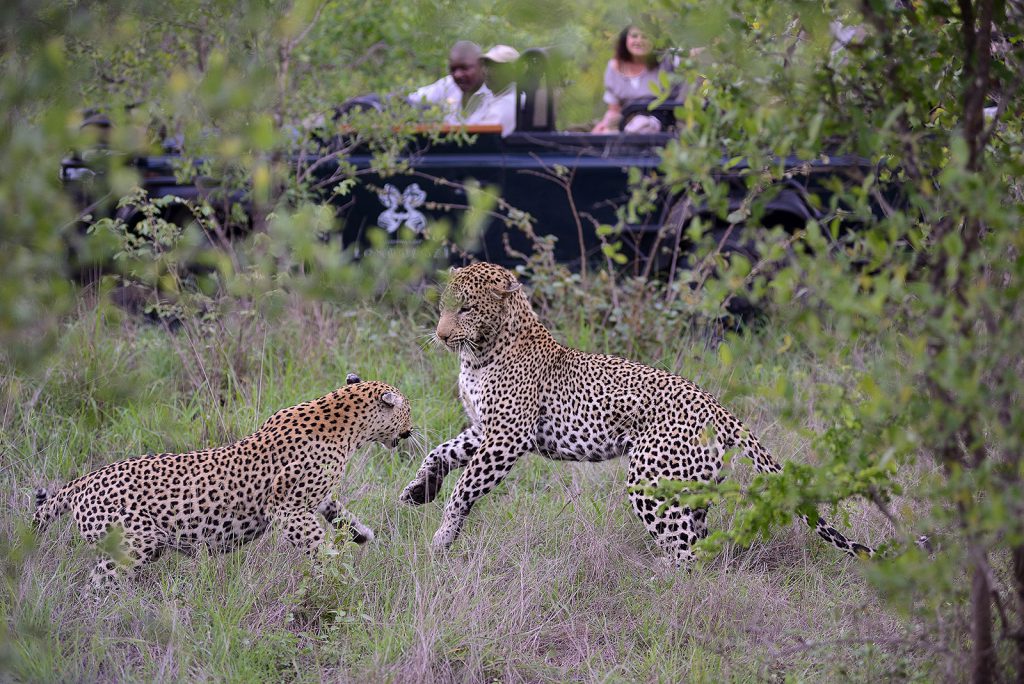 The Londolozi safari is a journey that immerses the senses and awakens the spirit. To have an encounter with wild animals in the African bush is to discover an essential truth about ourselves and our world. For all who live the Londolozi feeling, their deepest wish is to give you the chance to experience this for yourself.
Londolozi Camps
Londolozi operates five exquisite camps which offer blissful accommodation, profound vistas, and authentic African cuisine. All Londolozi camps offer the same access to 34,000 acre reserve with some of the best big five game viewing in Africa, led by some of the continent's most knowledgeable guides and trackers.
Each Londolozi safari camp varies in price according to the exclusivity of the accommodation. The Private Granite Suites are the crème de la crème of the Londolozi portfolio, followed closely by Pioneer Camp and Tree Camp, who all carry the prestigious global standard of excellence – Relais & Châteaux.  Founders Camp and Varty Camp are orientated towards families on safari and larger groups of up to 20 travellers.
Londolozi Varty Camp
Few campfires in Africa – or indeed anywhere – have had so much history stem from their flames as the one that still burns in Londolozi Varty Camp, over 90 years after it was first lit. For almost a century, the warm glow emanating from these same flames has given rise to ideas, visions and discussions, many of which helped shape the African safari industry as it exists today.
Children over the age of six are welcome at Varty Camp and with some of the chalets inter-leading, Varty Camp is perfect for families wishing to enjoy a multi-generational safari. Each room has its own private swimming pool, outdoor shower and outdoor dining sala, framed by timber decks raised off the ground under the shade of an ancient riverine forest.
Londolozi Tree Camp
Nestled in the canopy of a Leadwood and Ebony riverine forest, Londolozi Tree Camp is a sanctuary of serenity, style and simplicity. Throughout Tree Camp, the Ralph Lauren inspired decor offers a matchless showcase of excellence in celebration of Leopards, Leadwoods and Lanterns. Effortlessly merged with the surrounding wilderness, each suite has a spacious bathroom, indoor and outdoor showers, king-sized beds together with a private lounge area, outside sala and plunge pool.
Guests spend lazy afternoons on the Tree Camp deck, as hippos, giraffe and elephants pass in the river below. In the evenings, the camp glows with countless lanterns and rings with laughter and conversation. Tree Camp does not accommodate children under the age of 16, unless guests book the camp exclusively.
Londolozi Private Granite Suites
Londolozi's Private Granite Suites are a celebration of elegance and elephants in a remarkable river setting, flanked by an extrusion of ancient granite rocks. This highly exclusive camp conveys Africa's raw essence with a contemporary flavour. A sunset river bar and sunken cocktail lounge rest above the Sand River, where large breeding herds of elephants wander over the ancient river ways.
The Private Granite Suites offer a unique safari experience by blending the boundaries between inside and outside, creating a seamless integration with nature with large doors and windows opening directly onto the Sand River. Each suite has a luxurious outdoor bath and private, heated swimming pool amongst offering a private river affair for the discerning traveler who appreciates the finer details.
The suites can be booked individually or as a private camp for six guests, making it ideal for couples on a honeymoon safari or small groups celebrating special occasions. This private camp does not accommodate children under the age of 16.
Londolozi Founders Camp
Founders Camp honours past guests and staff who have contributed to building Londolozi. It is their efforts that have distilled the legacy of the past 40 years into a common mission. Enchanting and intimate, Founders Camp is a bushveld bohemia ideally situated to provide guests with an insider's view of the Londolozi families rich and warm history. Founders Camp consists of ten idyllic superior chalets settled in the shade of ancient Ebony trees along the banks of the Sand River.
The Founders Family Suites with their interconnecting skywalks, give this camp a young and vibrant energy that appeals to discerning individuals and modern day families. Londolozi Founder's Camp offers exceptional quality of service which will guarantee a carefree adventure during your Londolozi safari.
Also in Founders Camp, one can find the yoga deck, a sanctuary for quiet contemplation, beneath the shade of a 500-year-old ebony tree. Daily yoga classes are held under the watchful eye of the nyala, bushbuck and monkeys on what is undoubtedly one of the most unique yoga decks in the world.
Londolozi Pioneer Camp
Pioneer Camp's three interconnected luxury suites and generous bush homestead makes this the most secluded and flexible of the Londolozi Camps. The private suites have superb river views and are perfect for honeymoons and secluded getaways. The Camp can easily be converted into a bush homestead for private multi-generational family groups of between 6 and 12 people.
Londolozi re-uses, re-engineers and restores the original feeling of an African Safari Camp. Pioneer Camp carries all the elements of authentic bushveld living, clean lines, simple timeless and classic elegance with a touch of crystal.
A sense of history pervades the camp through faithfully restored memorabilia, photographs, leather and a bespoke one-of-a-kind wallpaper that lines the Pioneer Camp bar and tells a story of the lives of safari pioneers from just under a century ago.
Visit Londolozi
To experience a Londolozi safari for yourself and those closest to you, please fill in the form below and one of our team members will make contact with you shortly to explore dates, logistics and further curate your experience.